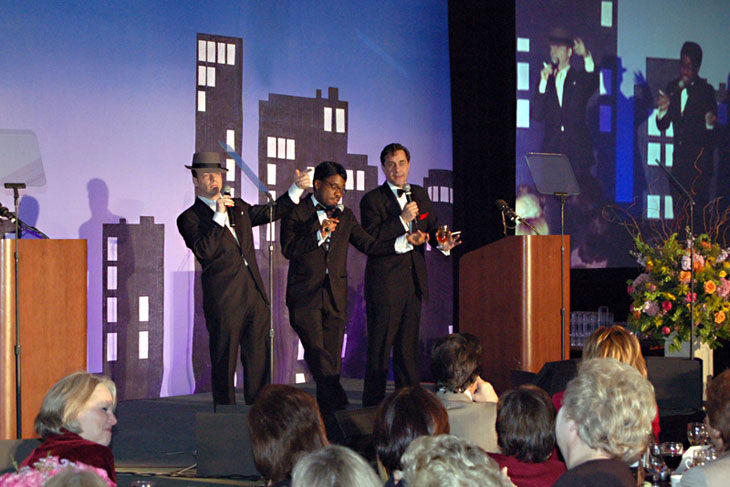 "Swinging with THE RAT PACK!"



When Frank Sinatra, Dean Martin and Sammy Davis Jr. hit the stage, it was always a "swingin affair"! These enormously talented entertainers, known as "The Rat Pack", were the coolest cats to ever play Las Vegas…. or anywhere for that matter!

Now, three skilled New York actors are bringing the songs, the laughs and the charisma of Frank, Dean and Sammy back to life in "Swinging with THE RAT PACK!"

This trio of professionals is highly skilled in improvisation and live interactive performance. When they perform, they not only capture the look and sound of Frank, Dean and Sammy, but their irresistible charm and chemistry as well!

Just like the original Rat Pack, the show is completely spontaneous and full of ad-libs…making it a must see...over and over again!!

"Luck be a Lady", "That's Amore", "The Lady is a Tramp" and "Candy Man" are just some of the timeless classics you'll enjoy during the show along with a whole lotta ring-a-ding-ding!!!

"Swinging with THE RAT PACK!" is a fun-filled 90 minute musical celebration that re-creates the magic of The Rat Pack, with a very special guest appearance from Marilyn Monroe, and is as close as you can get to hanging out in the front row at the Copa!!

"Swinging with THE RAT PACK!" has performed at various corporate events and private affairs throughout the country. This show has thrilled audiences in casinos in Atlantic City, BB King's in Times Square and the Empire Casino at Yonkers Raceway. The Pack also flew to Dubai in the Middle East for a very special private performance which was a real "gasser"!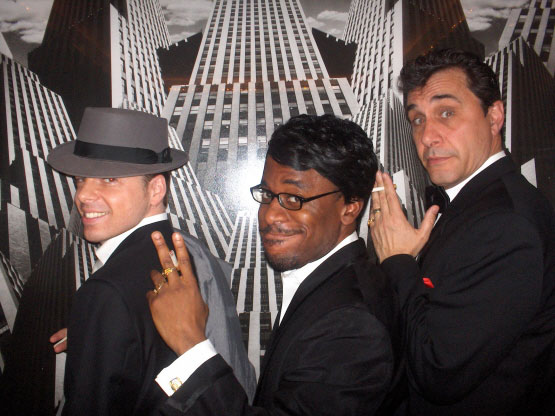 'Rat Pack' at
Wood: Sold out,
with good reason
By Kate Austin
Chronicle Arts Writer
It was a cramble to find a single
press ticket to
Saturday's soldout
Rat Pack at the
Wood Theater, but
98.5 WCKM, who
presented the show
with Hudson River Community Credit
Union, came through for me.
I'm glad they did. This show was spectacular.The performers not only sang
with the spot-on voices of Frank inatra,
Dean Martin, Sammy Davis, Jr. and
Marilyn Monroe, but their swagger, look
and banter were also tops.They kidded each other during the
songs in a nimble comedic dynamic.
Admittedly, these guys were big long
before my time, but I've inherited an
appreciation through the "eye-talian," asDean and Frank joked, side of my family.
A "tipsy" Dino flirted with the audience, with a quick wit — "What's yourname, baby? Betsy? You can sew me a
flag any time." With a drink in one hand,
a cigarette in the other, his crooning
voice sounded just like the real thing.
The fellow next to me even turned to
me and said, "He hasn't changed a bit!
He sounds great!" Dean did throw in an
anachronistic Viagra joke. Were he alive
today, he likely would have done the same.Frank lit a smoke and took drags as
he sang "One For My Baby (And One
More For The Road)" in a touching spotlight
solo. He invited two broads" from
the audience onstage to sing "That's
Life" to, cracking jokes the whole time.
For Sammy's solo, he sang and danced
to "The Candy Man," then took off his
jacket for a solemn "Mr. Bojangles."
He also sang "Black Magic," while doing
hilarious impersonations of Don Knotts,
Marlon Brando, Elvis Presley, Michael
Jackson, James Brown, Katherine Hepburn,
Al Pacino, Jerry Lewis, James Cagney
and Louis Armstrong — in one song.
His jokes about mopping the floor and
asking if any of "his people" were in the
room were a little uncomfortable, but
that's time travel for you. It's exactly
what Sammy kidded about, back when.
The whole audience sang along to
"That's Amore," and I'll admit, I was
moved to sing along at top volume.
Marilyn crashed the party and sang
a breathy, glamorous "Diamonds are a
Girl's Best Friend," and then, "You Gotta
Choose Me" with the boys.
She sang another solo — "My Heart
Belongs to Daddy," after which she said,
"Hello, Daddy!" to a fellow in the audience
named Charlie, who she dragged on stage
and sang, "I Want to be Loved By You" to
while groping the poor guy. It might have
been the funniest part of the show.
Frank and Dino went back and forth
with the fi rst lines of one of their own
songs, goofi ng on the second line — "Return
to me... I've got a sink full of dirty
dishes," sang Dean.
Then, to end, a killer version of "Mack
the Knife" and "New York, New York,"
complete with audience members kicking
in a chorus line.
The actors lined up afterward in the
lobby to greet the audience, and suddenlyI felt like sobbing. My Italian grandparents
and mom would have enjoyed
this so much. It was all I could do to
snap the above shot with a straight face
and get out the door before the tears fell.
My grandfather, Papa John, had that
quick wit like Dino. He died a couple of
weeks ago. This one's for him and Nonnie.
My Way and much, much more!
Pack can be at your next party! Add a little Frank Sinatra swagger to
your next party, corporate event or special occasion by hiring this Sinatra Impersonator for your event!
Jesse Posa is one of the leading Frank Sinatra impersonators in the New York /New Jersey area and has been a big hit with audiences of all ages.
Jesse Posa performs as Frank Sinatra in the ultimate performance featuring the Chairman of the Board's biggest hits. Summer Wind, Strangers in the Night, I've Got The World On A String, Fly Me to the Moon, My Way and much, much more!