Why book Pulse Productions?


At Pulse Productions, you can expect dedicated, full time professional entertainers who have decades of experience in making an event, one of a kind. From an intimate celebration to a Nightclub setting to hosting for over 400 guests or whether your entertainment needs range from a seven piece to a ten piece ensemble, Pulse's performance is outstanding.
Our client's needs and wishes are important to us. By planning and creating the musical entertainment with you, we are able to give you tailor made performances that capture the excitement of the affair as well as your vision of your party.

Having performed with many great artists like Sarah Vaughn, Dizzy Gillespie, Thad Jones, Elvin Jones, Sonny Sharrock, The Duprees, Jimmy Dorsey Orchestra, Bobby Brown, Luther Vandross, Roberta Flack, New Edition, Billy Hart, Mel Lewis, Ray Goodman & Brown, The Manhattans, The Chi-Lites, Betty Wright, Evelyn King, Regina Belle, The Turtles, Carmen Patena, Son Seal, Junior Mance, Pilita Corales, Eric Mingus, Joan Osborne, George Coleman and Lionel Hampton, Pulse has an enormous wealth of experience. Our musical selection range from the 40's, 50's, 60's, 70's, 80's, 90's and today featuring heartfelt Ballads, Motown, R & B, Swing, Jazz, Funk, Disco, HipHop, Reggae, Calypso, Rock, Salsa and Merengue. Think of Pulse Productions as the ultimate place to go for total entertainment. If you are looking for a band that can captivate audiences from all age groups, then Pulse Productions is the Band for you.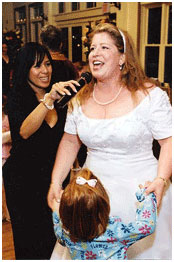 We proudly offer you:


6 dynamic vocalists to feature a wide variety of music
Continuous Live music
Full Insurance to meet all your needs
Planning and creation of your Entertainment directly with the Band Leader
Customizing the music for every event has always been very exciting for us. We have an endless imagination that's guaranteed to leave your guests with a lasting impression. At the sound of the very first song, your guests will know they are in for A Great Time! Pulse will keep the dance floor packed all night as we perform all the hottest hits you hear on the radio as well as all your favorites and special requests! With 100% professionalism, dedication, commitment, talent and attention to detail, Pulse will take your entertainment to the next level and make your event the Huge Success that you've always dreamed of. We'll deliver outstanding musical performances that's sure to bring back old memories as well as make new ones that you will cherish for the rest of your life.